Le Corsaire finale just came on shuffle... alors that is what I am listening to. Luurve it!
Anyhoo, finished week one! Tired? Sore? Anxious? YES YES YES.
The studios have a no-photography policy, but I'll see to that tehe =]
Yesterday we had a "Pilobolus Partnering" class. In case you don't know,
PILOBOLUS
is a company in Connecticut started in 1971. They do really interesting shows including shadow work (where the whole stage is a sheet, and the dancers behind it make shapes etc.). All of it is partnering by sharing weight so that not only your partner is holding your weight, but you're holding yourself as well. The class was really fun (and hard), and I can't wait to learn more next week!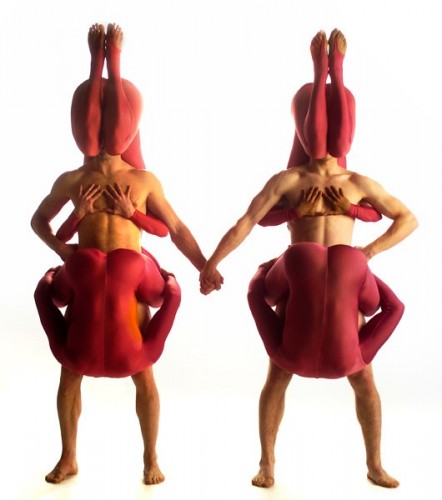 shadow work
Found a quiz... tell you all about myself in a few words.
Your favorite virtue.

respect
Your favorite qualities in a man.

honesty

.
Your favorite qualities in a woman.

individualism.
Your chief characteristic.

myself.
What you appreciate the most in your friends. comfort and change
Your main fault.

jealousy.
Your favorite occupation.

art.
Your idea of happiness.

the beach.
Your idea of misery.

inability to express myself
If not yourself, who would you be?

No one.
Where would you like to live?

the beach.
Your favourite colour.
green.
Your favourite flower.

lilies
Your favourite bird.

don't have one.
Your favorite prose authors.

don't have one.
Your favorite poets.

silverstein
Your favorite heroes in fiction.

howard roark
Your favorite heroines in fiction.

evey hammond
Your favorite painters.

matisse, klimpt, rousseau, picasso, da vinci
Your favorite composers.

ludwig minkus, mozart, bach
Your heroes in real life.

ghandi
Your favorite heroines in real life.

audrey hepburn
What characters in history do you most dislike.

andrew jackson
Your heroines in World history.
catherine di medici
Your favorite food.

scallots

.
Your favorite drink.

aloe juice.
Your favorite names.

micaela, mercedes, alessandra
What I hate the most.

slow people
The military event I admire the most.

when the military isn't doing anything.
The natural talent I'd like to be gifted with.

flexible feet.
How I wish to die.

in peace with myself
What is your present state of mind.

insomnia
For what fault have you most toleration?

honest mistakes
Your favorite motto.

don't have one.