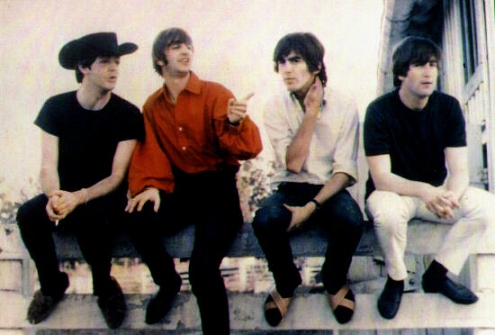 much to the discretion of the title of this post (beatles song that I'm listening to), i do not do drugs or shoot up... just thought i'd mention that.
anyways speaking of beatles, i LOVE the beatles.
did i mention i love the beatles?
well i do, I LOVE THE BEATLES!!!
anyways, on to ballet, the passion of my life. hah
latest update: audition video filmed today. I did some barre, center, and Gamzatti variation.
My teacher was a principal at the Paris Opera at the time when ol' Ruddie was there. So he always encourages me by telling me his Nureyev stories. Like me, Ruddie didn't have the best feet or turn out. My teacher said that Nureyev knew this, but the reason why he was so successful was because of his stage presence. Ruddie said that if he had not had the stage, he would not have been successful like Baryshnikov. My teacher also brought up Vladimir Vasiliev (whom he has danced with on numerous occasions when P.O.B. and Mariinsky guested together or galas etc.). There was an interview with Vasiliev, and he was asked what makes a successful dancer. Vladimir said (I am recounting from memory of what my teacher said), "good feet... good turnout... high jump... and if you can turn that's even better! But you are nothing without artistry."
My teacher told me this twice today. Once before partnering (awkwardly in the corner of the room with all the other students waiting hehe) and once before we filmed my video. Not to mention he also told me about Nureyev on Monday morning for our Student-Teacher Conference. I think it is amazing how someone can be so influential in our life.
For me (in ballet), it is my mentor and Gelsey Kirkland. I had heard about her from one of my old teachers, and I also read her autobiography. Then I was in her class for a three week period at a summer intensive. After this intensive, I gained an extreme amount of respect for her work. I suppose that when you work with someone very closely (even for a mere three weeks), you gain a mutual knowledge of the art you are pursuing. Everything that she taught me that summer influences my ballet classes every day.
Anyone else want to share their ballet idols?
This has been a hard week for me, I will explain on another day why... but for now I would like to share with everyone what my amazing friend got my today. He surprised me with this cute little puppy that lights up and says "I love you" when you squeeze it. It's now on my key chain, and I will squeeze it anytime I feel stressed or lonely. I love this person so much, he is one of the most warm-hearted people I have ever met. I mean that when I say it too.